I've been going a little mad for nail art in the last couple of months.
This is how I usually wear my nails. Plain, glossy red. OPI's Big Apple Red if you must know. It's my favourite ever!
OPI
would be my first choice when it comes to polish with amazing colour plus staying power. I love it. If I was pushed for my second choice, I'd stay Nails Inc. And whilst we are on the subject, I always wear OPI base coat and a top coat which enhances the longevity of the polish. I've just noticed that
OPI have an iPhone app
. You can set the shade of your skin and see what their colours look like.
My first play around with bling...
Of course I had to tweet it out. My mum had to air her opinion! lol.
@karenstrunks

Your nails looks like traffic lights a bit busy.Ha Ha !
@createdineire

leave me alone! Everyone will compliment them tomorrow, wait & see! x
These photos aren't in any particular order.
THIS was my first effort in leopard print nails. It went a bit wrong! I just kept adding glitter on top to make it look better. It's hard to control the black lines, you need such a steady hand. They kind of looked better in real life - when I moved my fingers quickly and they were a blur.
I took this photo the other week. This is the longest my nails have EVER been. For some reason they just grew whilst I was in hospital for a week. I loved them, BUT now only my left hand has long nails and my right hand nails are shorter. Harumph.
I got some black lacey nail stickers that I thought might look quite elegant. I planned out how I would do each nail design and cut them to the right size first.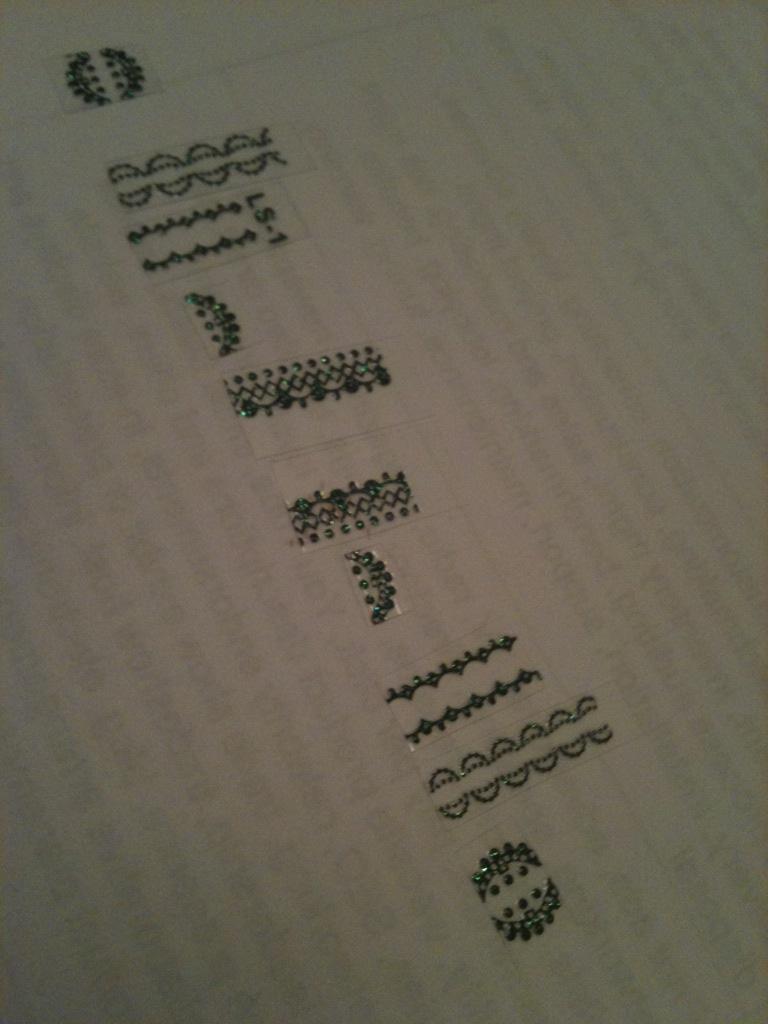 Ta da! I just called this Black Nude Lace, but my best friends said it reminded her of 1920s Parisian Chic. That's even better!
So easy to do. Black with a little silver glitter along the cuticles.
I got carried away with the bling a bit! Every one of these sparkles stayed on for over a week. It was the week I was in hospital. They were quite a talking point with the nurses ha.
I was inspired the day I thought of this one! Wonder Woman nails!
The blue and stars from Wonder Woman's shorts and the red (with added glitter) from her top!
I saw this type of design somewhere; stained glass window. I gave it a try, but it didn't work out. I think it needs brighter colours and thinner black lines.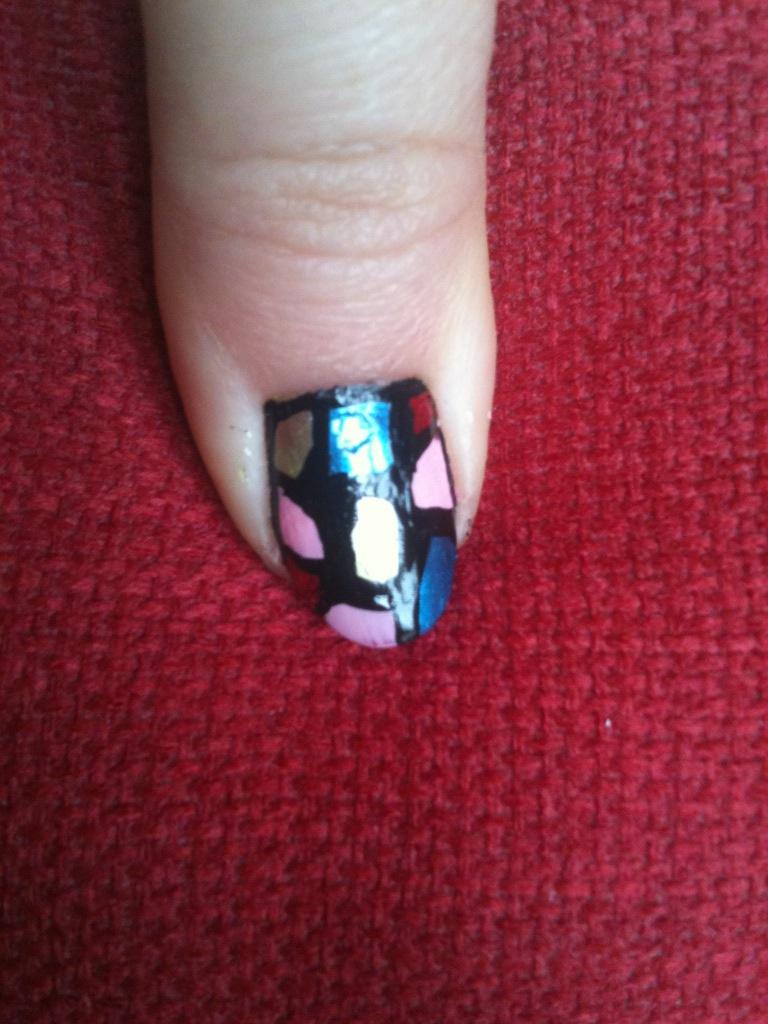 Just red with a little bling.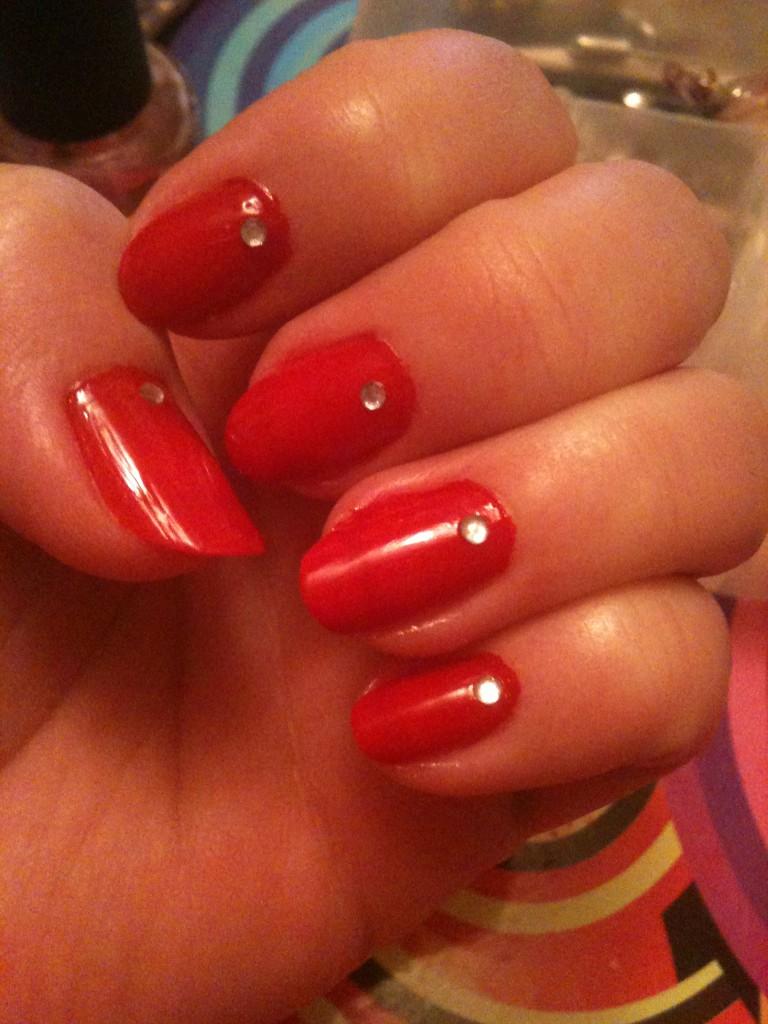 This only stayed on for a few hours. I was just playing around with nude, red and sparkles.
Another play. My first attempt at a heart, polka dots, flowers, and a cute ladybird.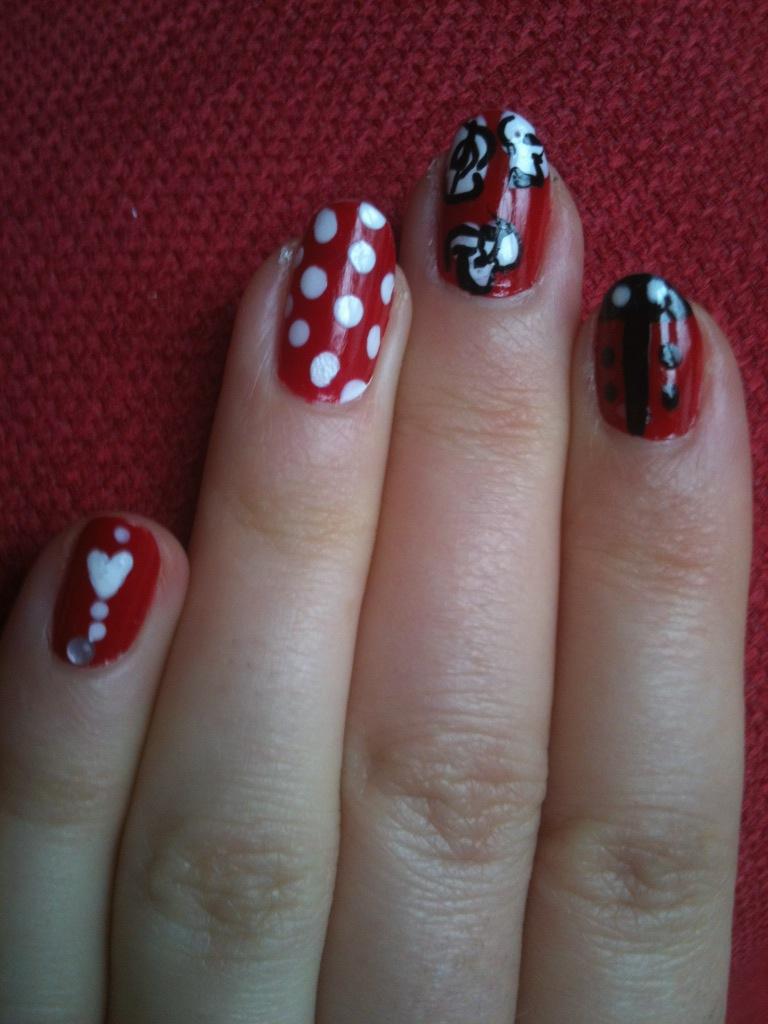 I don't know why I haven't bothered having more fun with my nails before. Time and inclination I guess, but I find it really relaxing.
Here's a few places I like to look for nail art inspiration.
Coloures De Carole
I just stumbled across this one the other day. You could be there all day looking at all her wonderful creations!
Nuthin' But A Nail Thing
This lady seems to paint her nails with a new design every day! She's got tons of links to other nail blogs on her side bar if you fancy even more inspiration.
Pinterest
This is a mix of nails, hair and make up and seeing as I love make up even more than nails this is a great place for me to hang out. If you want to keep up with some of my favourite finds you can
follow my beauty board.
There we go!
It's Sunday afternoon and I'm going to chill out for the rest of the day and do all my beauty things. It's GREAT being a girl! :)